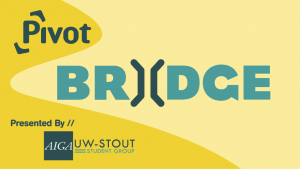 Saturday, November 13th, 1:00pm until 5:00pm
UW-Stout
Applied Arts Building
Lecture Hall 210
235 Applied Arts
Menomonie, WI 54751
The Pivot Series is designed as an opportunity for AIGA student groups to develop programming for their fellow students who reside and study in the upper Midwest.
Bridging the gap between college life, and the design world is one of the biggest steps student level designers face at this stage in their lives. At Pivot :: Bridge we're hoping to make that transition a little bit easier. We're inviting several University of Wisconsin-Stout alumni who have successfully entered the design world within the past few years and landed jobs at the highly influential and innovative interactive design firm space150. They've worked on huge projects with enormous big- name brands such as Forever 21, Starz, Best Buy, Target, and American Express. The speakers from space150 will be talking about their experience making this transition, and what it's like out there living the dream at such a huge company just a handful of years after graduating. Following the speakers, members will have the opportunity to make designer trading cards and having a meet and greet with fellow Pivot attendees. AIGA members can trade information with someone new, and by the end of the day not only will they have invaluable information about the transition from school to career, but also have a new business contact with someone who'll be entering the design world around the same time they will be.
Members of the AIGA UW-Stout Student Group DO NOT need to register.  Simply bring your Student I.D. with you to the event ($10 without I.D.).
For more information, check out the event page on the AIGA website: http://www.aigaminnesota.org/events/pivot-bridge/