April 12, 2011
5:45 am
to
6:45 am
5:45 am
to
6:45 am
Come and vote for for those who will be making AIGA decisions! {if you would like to run for an officer position email aiga@uwstout.edu}
&
Come and hear what everyone learned at portfolio 1 on 1!!


March 22, 2011
5:45 pm
to
6:45 pm
Ready to try something new design challenge?!?!
At 15 Minute Designs we will give everyone a design challenge description.  Everyone will have 15 minutes, using any medium from sketching to rendering.  It should be exciting and it will be interesting to see what you can do in 15 minutes!

March 8, 2011
5:45 pm
to
7:00 pm
We will be showing Art and Copy
+ free Pizza
ART & COPY is a powerful new film about advertising and inspiration.  It reveals the work and wisdom of some of the most influential advertising creatives of our time — people who've profoundly impacted our culture, yet are virtually unknown outside their industry. Exploding forth from advertising's "creative revolution" of the 1960s, these artists and writers all brought a surprisingly rebellious spirit to their work in a business more often associated with mediocrity or manipulation: George Lois, Mary Wells, Dan Wieden, Lee Clow, Hal Riney and others featured in ART & COPY were responsible for "Just Do It," "I Love NY," "Where's the Beef?," "Got Milk," "Think Different," and brilliant campaigns for everything from cars to presidents. They managed to grab the attention of millions and truly move them. Visually interwoven with their stories, TV satellites are launched, billboards are erected, and the social and cultural impact of their ads are brought to light in this dynamic exploration of art, commerce, and human emotion.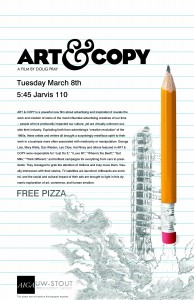 Web Design 101
An overview of setting up a personal website built through WordPress.
Featuring Cooper Whitescarver
The design world today requires that you know at least some parts of digital/web/interactive design to survive. Every designer who hopes to make something of themselves needs a website when stepping out into the professional realm. Cooper Whitescarver will be coming in to share a bit of his extensive knowledge on using WordPress as a tool to create an unbelievable personal website where you can have the abilities to show your portfolio and your blog all in the same place. There are no limits… You'll just have to speak the right language to make it all happen.
Tuesday, March 1st @ 5:45pm Jarvis 110


February 24, 2011
5:45 pm
to
6:45 pm
Attention Design Students (Industrial, Graphic, Interior and Multimedia) as well as all Packaging Engineering Students and Graphic Communications Management Majors.
Would you like to know what a day in the real-world life of cross-disciplinary design is like? UW-Stout's AIGA Student Group along with IDSA's Stout Chapter is hosting two Senior Communications Designers from Ziba Design, Inc. out of Portland, OR: Jessica Vollendorf & Sarah Osborn. They will talk about prototyping and it's role in the print, packaging, product, interaction, and environment design process. They will also explain the value of a brainstorming culture for coming up with innovative solutions. Both Sarah and Jessica have worked on packaging and branding as part of holistic design solutions. Some companies they have worked with are P&G, Nike, Aerie, Patagonia, Crate&Barrel, & Wolfgang Puck as well as other Fortune 100 companies. Both designers hold a Bachelor of Fine Arts degree in Art and Graphic Design from University of Wisconsin-Stout.
Sarah Osborn
Senior Communications Designer
Sarah is a senior communications designer at Ziba, an innovation and design firm based in Portland, Oregon. Sarah's focus at Ziba is creating packaging and branded solutions that tell holistic stories. She works with Fortune 100 companies to create cohesive touch-points across brand and product experiences. Sarah has worked on packaging structure, graphic design, environmental design and copywriting for companies especially in the health and beauty industry, including P&G and other cosmetics companies.
Prior to Ziba, Sarah worked for Outset, a designer and producer of high-end grilling and barware accessories. As both designer and copywriter, she designed packaging structures and graphics for 250+ products, websites, identities, print collateral, supported product design, and wrote copy and brand messaging. Her other clients included Kingsford, Crate&Barrel and celebrity chefs such as Tyler Florence and Wolfgang Puck. Sarah earned her Bachelor of Fine Arts degree in Art and Graphic Design, and minor degree in Journalism from University of Wisconsin-Stout.
Sarah enjoys oil-painting, playing tennis and screen-printing. Her favorite activity is shooting film photography during the beautiful Portland summers and while traveling.
Jessica Vollendorf
Senior Communications Designer
Jessica is a senior communications designer at Ziba, an innovation and design firm based in Portland, Oregon. Jessica specializes in packaging design and has a strong understanding of the relationship between packaging structure, graphics, and branding, and how to create holistic design solutions. She has worked with companies in the soft goods, health and beauty, food and beverage, consumer electronics, and apparel industries, including: P&G, Aerie, Nike, Patagonia, Wrigley and Dell.
Before joining Ziba, Jessica worked for a Minneapolis-based design consultancy, Baker Associates. During her time at Baker Associates she designed packaging graphics and interior signage for Fortune 100 companies in the food and beverage industry. Jessica has a Bachelor of Fine Arts degree with a concentration in Graphic Design from University of Wisconsin-Stout.
Jessica loves illustrating, whitewater kayaking and traveling, and has backpacked through most of Mexico while perfecting her Spanish.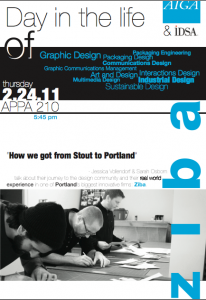 February 22, 2011
5:45 pm
to
6:45 pm
Portfolio One on One is coming soon ARE YOU READY?!?!?
FEB. 22nd @5:45 Jarvis 110
Not long ago Kayd Mustonen & Katie Lupton were sitting next to you in class, getting ready to be released onto the world. Now transplanted back into the big city, we're doing the design thing and coming back to share some advice and some laughs.
AIGA UW-Stout Student Group Presents:
INSIGHTS ON BEING A BIG KID:
Interviewing, Portfolios & Freelance